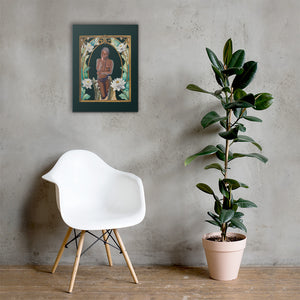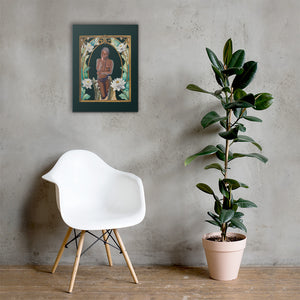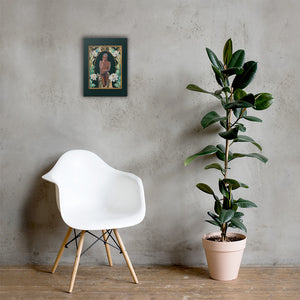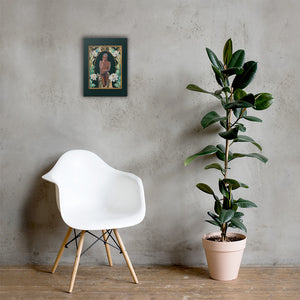 On Sale
IS THIS DESIRE? (the mami wata who chose herself)
Artist Statement
When I was six, my mother handed me a small green hardbound book of Liberian folklore tales. Over the years, I immersed myself in these stories, reading them cover to cover many times. As I transitioned into adulthood, my perspective on these cherished tales evolved. While many conveyed universal messages of kindness and generosity, I began to discern the pervasive misogynoir within them. These stories depict femmes as greedy, jealous, or mere objects of desire to be acquired. They lack narratives exploring feminine desire outside the realm of cautionary tales.
Earlier this year (2023) I began to contemplate the untold stories of the femmes within my beloved Liberian folklore. What were their desires? This question propels my newest ongoing series: "Is This Desire?", the title taken from a PJ Harvey song of the same name.
Is this desire enough, enough

To lift us higher, to lift above?

Is this desire enough, enough

Enough inside? Is this desire?
The song resonates with the Liberian fable, "The Fisherman who married a Water Spirit." In both narratives, women, inquisitive and seeking, question the necessity and soundness of their desires.
These works endeavor to reclaim and reimagine the folklore of my youth, unveiling the untold narratives of feminine-identified individuals who linger in the shadows of the pages. In creating a new lens through which to perceive these tales, we can collectively delve into the profound heritage of Black femininity and confront the enduring biases persisting within it.  -- Denisio Truitt, October 2023
Canvas Details

• Stretched Canvas Print available in two sizes: 12x16", 18x24"
• Acid-free, PH-neutral, poly-cotton base
• 20.5 mil (0.5 mm) thick poly-cotton blend canvas
• Canvas fabric weight: 13.9 oz/yd2 (470 g/m²)
• Fade-resistant
• Hand-stretched over solid wood stretcher bars
• Matte finish coating
• 1.5″ (3.81 cm) deep
• Mounting brackets included
• Ships in 7-10 business days